Where would content marketing be today without visual graphics like infographics, graphics, and images?
Given that 88% of all marketers use visual graphics in more than half of the marketing material they produce, the answer is clear: without them, content marketing would be colourless and flavourless.
In an ideal world, a marketing dream-team would consist of a know-it-all-SEO, a quality content writer native in six different languages, a professional designer who can also one-man video production, and maybe an office dog to lift spirits when times are bad. 
But that's not always possible, is it? 
Worry not. There are always ways around making up for the lack of such talented personnel, especially given the plethora of substitutes like Ikea stuffed dogs available at our fingertips these days.
In this article, we'll talk about how teams without a professional designer can still create visually attractive content, and introduce the 12 best visual marketing tools available to content marketing teams today. 
From the best data visualization tools to visual tools for icons and more, we've got you covered.
Without visual elements, content marketing would be colourless and flavourless.
Click To Tweet
The evolution of visual marketing tools
Statistics show that less than a third of marketing teams today have the luxury of an in-house designer. 
And for those that don't, there appears to be a trend indicating that they are moving away from externalising their visual design needs. As it stands, just 10% of all marketing teams outsource their design efforts—a 150% decrease from 2016.
An entire generation has passed since the likes of Photoshop, Illustrator, InDesign, etc. were introduced to the world and visual marketing tools have come a long way since.
Remember when marketers who were capable of designing anything acceptably beautiful were the few privileged ones who could master these programmes? 
Long gone are those days. 
Don't get me wrong. No one can argue against the quality of visual graphics put together by professional designers with Illustrator, Photoshop, or InDesign; the results are none other. 
But the steep learning curve and complexity of such software make them extremely cumbersome and time-consuming to learn, use, and let alone master. 
And it is the elusiveness and inaccessibility of this golden combination that sparked a barrage of easy-to-use visual marketing tools at our disposal today.
In their own words,
"…InDesign and Photoshop—programs that people found hard to learn and even harder to use." — Canva

"…to put visual prowess in everyone's hands." — Piktochart

"Design professional presentations in seconds…" — Slidebean
Marketing teams today are lucky enough to have visual marketing tools beyond Adobe to help them create professional-looking marketing graphics and images without the skills and talent of a professional.
Marketing teams today are lucky enough to have visual marketing tools beyond Adobe to help them create professional-looking graphics and images without the skills and talent of a professional.
Click To Tweet
From social media images and banners to presentations and infographics, you can do nearly everything with visual marketing tools. 
But with so many visual content tools out there, how do you know where to begin? While everyone has his favourites, here are 12 of our favourite visual marketing tools at Dear Content and a review of each of them.
1. Piktochart
It's 30 times more likely to be read than an article, works phenomenally on social media, and is one of the most effective content types for obtaining backlinks. 
What visual marketing jewel are we talking about? You guessed it—infographics. 
Don't let not having a designer on your team prevent you from producing infographics, especially when there's Piktochart.
With Piktochart, you have everything you need in one spot to create beautiful marketing graphics: templates, icons, graphs, images, maps, text formats (titles, subtitles, paragraphs, etc), and is a must-have for any content marketing agency.
Attractive data visualisation forms the soul of any good infographic, and Piktochart's variety of ready-to-edit and ready-to-use graphics make it possible. 
Our favourite feature: How it's all laid out in a way that makes creating graphics online simple and stress-free. Here's what you can do with Piktochart:
Play around with the structure by sorting, copying, or adding blocks to your design.

Adapt each block to your content by modifying its size.

Align your visual elements neatly with alignment prompts.
2. Canva
Canva is one of the most popular visual content tools and possibly the most multi-purpose one available. Social media images, presentations, posters, reports, flyers, banners… if it's visual, it's on Canva.
At Dear Content, this is one of our favourite go-to visual marketing tools for quick content repurposing.
Canva offers a host of marketing graphic templates for the different formats and sizes for different content types. This allows you to convert one visual to another easily in under an hour, such as from an ebook to a guide to other types of content for lead generation.
Plus, you can even share them directly via email, Slack, or to your social media accounts. For those who aren't fans of the 1980s feel of PowerPoint, you can even create your design online with Canva and download them in PPT format.
Our favourite feature: Canva's magic resizing feature, which helps you repurpose marketing graphics for different content types. For example, you can create an image for a blog header and simply resize them to different dimensions for other formats such as banners, Instagram posts, etc.
3. Slidebean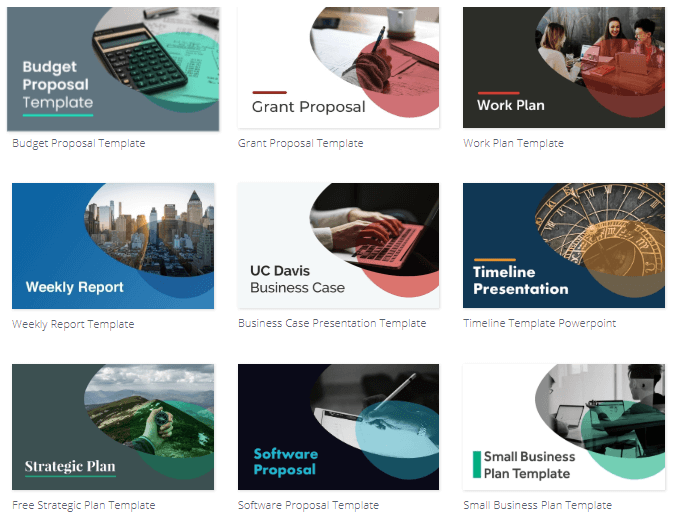 Need to create a professional presentation for the impromptu meeting that's just been called for tomorrow? Slidebean has got you covered.
Slidebean is an online design tool and the visual marketing cure for marketers who's had life-scarring experiences with PowerPoint. 
It's got templates for all kinds of presentation you could possibly need and extremely simple to use: Select your template and design, add icons and text as needed and voilá! 
Slidebean is the cure for marketers who's had life-scarring experiences with PowerPoint.
Click To Tweet
Plus, if you're sending the presentation to others, as you might do for a sales presentation, you can track its activity. 
Each presentation created by Slidebean has its own unique URL, which means it can be tracked individually. This allows you to see who's viewed your presentation, how much time he/she spent in total, and on which slide(s), etc. 
Slidebean has a host of visual graphic templates meant for startups. So if you're looking to secure a new round of financing, you can find templates for pitch decks in Slidebean, which includes models that have been previously used by unicorns.
Our favourite feature: All the icons you select automatically have the same visual style (colour, outline, etc), which saves you editing time and gives your presentations a polished look in minutes.
4. Vizzlo
Bar charts, empathy maps, organizational charts, Gantt charts… whatever business chart you need, you can create it with Vizzlo.
You can use them in presentations, social media images, marketing graphics, etc. But Vizzlo is best suited for graphs and charts meant for reports, be it an internal annual business report or a whitepaper.
Like Slidebean, Vizzlo's main target is startups and also has a wide selection of marketing graphics that are perfect for pitch decks.
Our favourite feature: Its seamless integration with Excel. Import Excel data and convert them into attractive visual graphics and charts.
5. Remove.bg
For those who have tried to remove an image's background with Photoshop will know it's anything but a walk in the park.
Fortunately, we're in a time and age now where options aren't simply limited to Photoshop, Photoshop, and Photoshop. 
Remove.bg is a simple and effective visual marketing tool that removes image backgrounds easily, which is especially useful when having to harmonise styles and tones of photos and images.
Think about photos of team members you want to include in presentations, reports, or even on your company's 'about us page'. What happens when one team member submits a photo with a white background, and another submits a photo of himself at the Grand Canyon?
With Remove.bg, your problem is solved.
Our favourite feature: Its simplicity. Upload the image and copy the URL generated. That's it.
6. Paletton
Professional designers have plenty of resources to help create visually attractive colour palettes. Or they just know what colours go well with others and may even be able to name the exact HEX codes. 
Complementary colours, tones, shades, tints… if these are terms that give you nightmares, you're probably better off relying on an online design tool specially designed to pair colours.
And for that, Paletton is your answer. It's one of the most practical colour scheme design tools available. All you have to do is select a base colour and it generates the different colours that pair well with your selected colour. You can even add complementary colours.
Our favourite feature: You can copy the HEX colour code or export them as CSS, HTML, XML, or plain text.
7. Flaticon
Flaticon is an absolute treasure trove of icons and another one of our absolute favourites when we have to create graphics online. 
Even though you may already be using visual marketing tools that have icons incorporated such as Canva, Piktochart, or Slidebean, it never hurts to have an extra source for icons. Plus, you may sometimes need a specific icon that these tools simply don't offer.
Though you may already be using visual marketing tools that have icons incorporated, it never hurts to have an extra source for icons.
Click To Tweet
With Flaticon, you are icon-spoilt for choice. Select from 2 million icons and download the icon you want in the format (PNG, SVG, EPS, or PSD), size, and even colour you want.
Our favourite feature: You don't need to download each icon individually. Simply add them to your collection (the free version allows for three collections) and download them all at once.
8. Google Fonts
Lato, Roboto, Open Sans, or Montserrat—who doesn't like Montserrat?—are some of the most popular Google fonts.
They're perfect for your website because you are pretty much assured that they won't face display issues with different browsers. But websites aside, these are also fantastic for other designs.
It is this versatility that makes Google Fonts an essential resource for visual marketing. 
You can think of Google Fonts as Paletton for fonts. Select from over 800 fonts, preview your text, and get a feel of the fonts that work best together.
Alternatively, browse through collections with font combinations created by expert business design teams at Google, IBM, and other top designers.
If that isn't enough, Google Fonts also provides you with information such as load time, the geographical area in which the font is used the most, etc.
Our favourite feature: You can copy and paste the font codes you want to integrate them into your website's design. It's so easy to use and there's a guide that goes through the process with you step by step so you don't need to understand HTML or CSS to use it.
9. Hatchful
Create stunning logos in seconds. That's the promise of the free logo design tool created by Shopify. 
Well, it may be quite a stretch to say you can get one that's to your liking done in 20, or even 30 seconds. But it's clear that with Hatchful, you can create a basic logo in under five minutes (or 300 seconds).
Its objective is two-fold: to help new entrepreneurs to create brand logos while enriching the top parts of its funnel by keeping their brands on the top of the minds of prospects. Great strategy, isn't it?
In its own words, Hatchful is built for 'the entrepreneur on the go'. But it's also a very useful online design tool for developing logos for MVP, a minisite, or a proposal for a website redesign.
Our favourite feature: It's ridiculously easy to use. Select a business style and visual theme and indicate your business name. From there, a whole range of templates is generated and then it's just a question of personalising colours, styles, fonts, icons, etc.
10. Bannersnack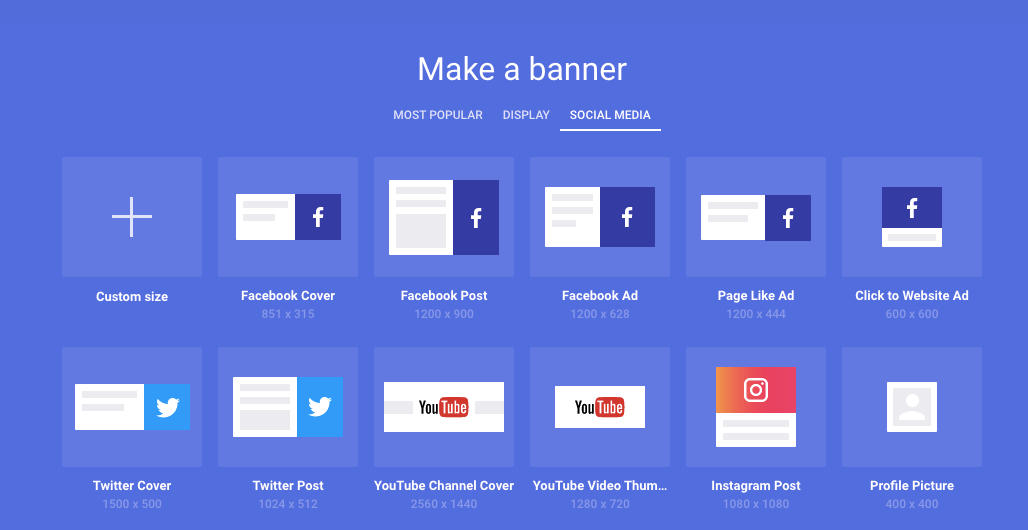 The best way to describe Bannersnack would be to call it the Canva of banners. If you are familiar with Photoshop, you may be happy to know that it also works with the concept of layers.
You can personalise and select from many different formats and sizes to use them on social media, not only for campaigns but also for blog posts, cover images, etc.
If you are looking for visual content tools for display campaigns and Facebook ads, you may want to consider Bannersnack's paid version, which allows you to create different banner sizes at one go from one single design.
Their premium versions (from $7 a $36/month) also offers animated templates and the

magic animator

feature, which allows you to add animations to your banners and customise them.

The free version allows only one animation and you have no access to their stock photos, but you can always upload your own images.
Our favourite feature: The ability to edit different formats simultaneously, a feature that's only available in the premium version. In the free version, we love being able to change the banner size as and when you want during editing—from a skyscraper to a box to a banner, everything goes.
11. Vizpresso
Have a presentation or a visual content project to work on? Check out this collection of fascinating data and statistics presented as a slideshow to inspire ideas.
Vizpresso is a data visualisation tool created by Piktochart to inspire content marketers and convert those who are still holding back from launching into visual storytelling.
This visual marketing tool provides you with beautifully created slides you can use for your next project. You can 'copy' them or adapt them as needed for your reports and presentations. Or, simply look through them for creative inspiration!
Plus, each design comes with its own story—a good example of how to complement visual and text forms in your content marketing material. After all, the perfect accessory to an image is quality content writing and vice versa.
Our favourite feature: You can download the slides and save them as ideas or inspiration. If you are a Piktochart user, you can even select and edit templates directly in Piktochart.
12. Dribbble
The first time you try Dribbble (yes, there are three 'b's), don't be surprised if you feel a little out of place. 
Dribbble is actually a community of designers who use it to showcase their projects to gain visibility, receive feedback, source for new projects, or simply to get inspired.
In this sense, Dribbble may not be the best online design tool for all marketers, except for those who are better-endowed with a talent for design. But don't let this stop you from giving it a try.
It showcases the best web and app examples and is a huge source of inspiration. If you are in charge of a project that requires web or mobile design and are collaborating with a product team or an external agency, Dribbble is a good place to start researching for ideas.
Our favourite feature: If you come across an app or website that you like and you'd like to incorporate its visual style to your project,—be it an infographic, guide, presentation, etc—you can view and download its colour palette.
Before trying out visual marketing tools
If you're thinking about giving some of these visual content tools a try, wonderful! 
But before you launch yourself into creating accounts, from the point of view of a compulsive consumer of visual marketing tools, we recommend you to keep the following in mind.
Beautiful as they are, don't just focus on how attractive the templates are.

Make sure there's enough variety for your marketing graphics needs. This is especially important for content marketers producing visual graphics on a regular basis.

The last thing you want is to end up having to use the same few templates over and over again because the rest of the designs just don't fit well.

Even though some of these visual content tools may have their own stock photos or icons, it's never a bad idea to be able to upload your own as it gives you more choices and makes your visual more personalised. It's more time-consuming, but also more original.
If you prefer to pay for a premium plan to save costs, we would recommend starting out with a monthly subscription. It sometimes takes more than three or four uses to really figure out if this is the right tool for you, which some free trials may not give enough time for. Don't rush and give each tool a try before committing yourself—just like dating!
---
Want to learn more?
Lin's an ex-journalist who's found her new love in content marketing. In her spare time, she's on a secret conquest to find a solution to never having to cut her nails again.